If you go for pure Americana on two wheels, go shopping at Harley-Davidson, or at least for a short time. Because Indian offers a perfect alternative for the entire H-D range.
We drove their Flat Track Racer 1200, abbreviated FTR. Not their basic version, but their top of the trumps Carbon version, you will never get bored of that.
H-D riders won't admit it, but Indian is the oldest American motorcycle brand, although their heydays are from 1951 to 1953.
Over the years they were champions of Flat track racing, racing on a slippery oval. Back then with a 750cc version.
Those successful years were followed by years of takeovers and bankruptcies, until 2011, when Polaris bought the Indian name.
The difference with that other American is that Indian can now rely on the modern know-how of the Polaris Group and you immediately notice that in the sky-high finish.
Today Indian has a whole range of motorcycles, 6 models in total with 28 versions. The FTR model alone has 4 models: the standard FTR, an FTR Rally, an FTR S and an FTR R Carbon.
For 2021, the FTR Rally will retain the 19-inch front wheel from previous model years, as the FTR, FTR S and FTR R Carbon have been upgraded to 17-inch wheels, tighter suspension and improved engine mappings.
That last model, the top model, was entrusted to us for a day by Bikes and More from Sint-Martens-Latem.
 
Race bikes are cool and make many riders dream, or at least until it turns out that all that hyper-sporty violence isn't really practical on the street.
With a thick V-twin that is good for 123 hp and 120 Nm of torque, you can expect fireworks.
Pressing the start button reveals that this is not your average V-twin. The Indian rumbles like only other American motorcycles have with a very smooth throttle response and a clear focus on tons of torque, torque and more torque.
And now let torque be something that makes a motorcycle practical in everyday traffic.
With 232 ready-to-ride kilos, the FTR is not a featherweight, although this engine moves from its place as a drag racer, but you only encounter the weight during heavy braking maneuvers and then you have twin Brembo four-pistons to come to a smooth stop.
No, no complaints about the handsome, dark red trellis frame. On the contrary: compliments to the engineers for making this relatively heavy motorcycle feel so sporty.
Leaving at the lights is reminiscent of a catapult launch and that while there is also a lot of power hidden higher in the rpm scale.
The engine is really powerful and goes like a spear with a nice sound, lots of pulling power at the bottom, which is usable on the street.
Everything is accompanied by a banging and cracking soundtrack by Igor Akrapoviç and you can say that a ride on the FTR is an experience.
The FTR suited me right away. Very pleasant upright sitting position, reasonably wide handlebars, and quite sporty knee angle. I am 1m82 and could easily place my feet flat on the ground and the footpegs were very familiar to me. I had this engine in my hand right away.
Furthermore, with a set of very intuitive steering wheel buttons, the steering wheel fits perfectly in the hand and the small headlight camp with high dashboard offers just enough wind protection to put you flat on the tank a bit out of the wind.
No excess of settings or buttons, but a screen on which you can perfectly choose your desired settings, even with gloves on from a number of simple menus.
The readability is also top in all conditions and the different engine mappings are clearly tangible and suitable for changing driving conditions.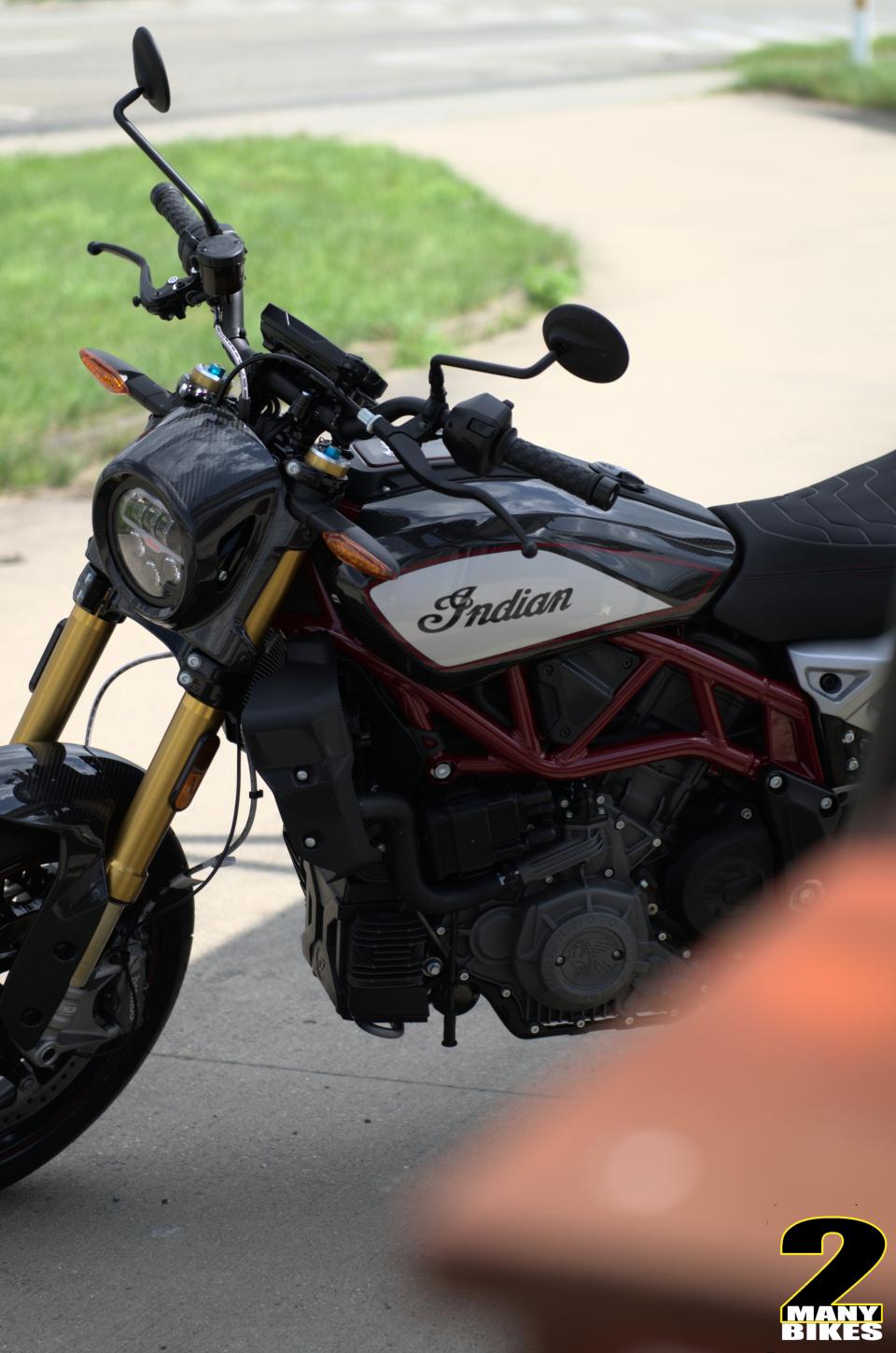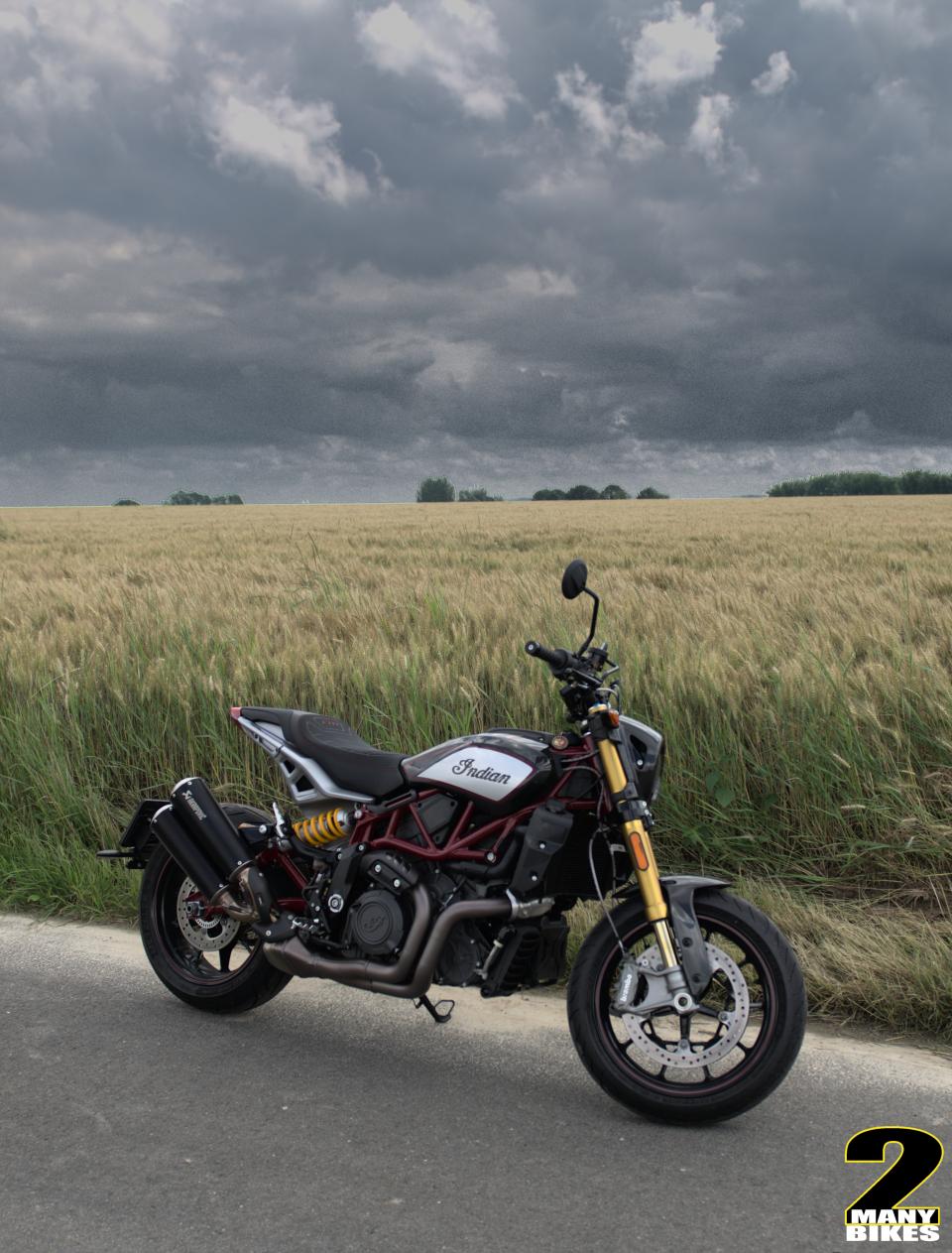 From the start, driving felt very familiar and certainly not overwhelming, even with its heaps of torque.
And then the bends, you could guess for yourself that the new 17-inch rims shod with Bridgestone S22 on asphalt offer more grip and steering speed than the old 19" wheels and also the performance of the fully adjustable Öhlins suspension to criticize.
 
The FTR is full of nice details, the red trellis frame, the metal bracket for the license plate, no plastic here!, and in our case carbon accents, gold front fork from Ohlins. But even a standard FTR looks very nice.
You always have the feeling of being on the road with a special motorcycle, although it is mainly the motorcycle character that distinguishes this bike from the rest of landscape.
There are also downsides, the beautiful but clumsy fuel cap that is guaranteed to fall to the ground when refueling.
And you will do a lot of refueling, there is barely 13 liters in the strangely shaped petrol tank under the seat, and that is too little for a 1200cc cannon like the FTR.
We take the typical American, accurate but heavy gearbox for granted, just like the 'good vibrations'.
Just when even a Ducati Monster starts to look like yet another Japanese mass production, it's cool that Indian opts for such a unique design with countless beautiful details.
Beautiful finish, practical comfort and lots of sensations from the engine make this fat V-twin an outsider among the naked bikes, guaranteed to be the center of attention.