Intro:
It must have been 2019 when the seed has been planted for this journey.
Some friends of me went allroading in the French/Italian Alps. For me the starting point.
After 2019 comes 2020 and what happened in 2020? Corona.
After 2020 comes 2021 and what happened in 2021? Corona.
After 2021 comes 2022 and what happened in 2022? A text message: Alps this summer yes or no?
Well it was a definetely a yes!
For me it was time to prepare myself as I still had some time:
1. Going more offroad with the GSa 
2. Make sure I was able to haul all the lugage (without using the metal cases).
3. Count down. 
The plan is simple: 
- 1 day riding towards the Alps
- 6 days riding in the alps as much offroad as possible
- 1 day riding back home.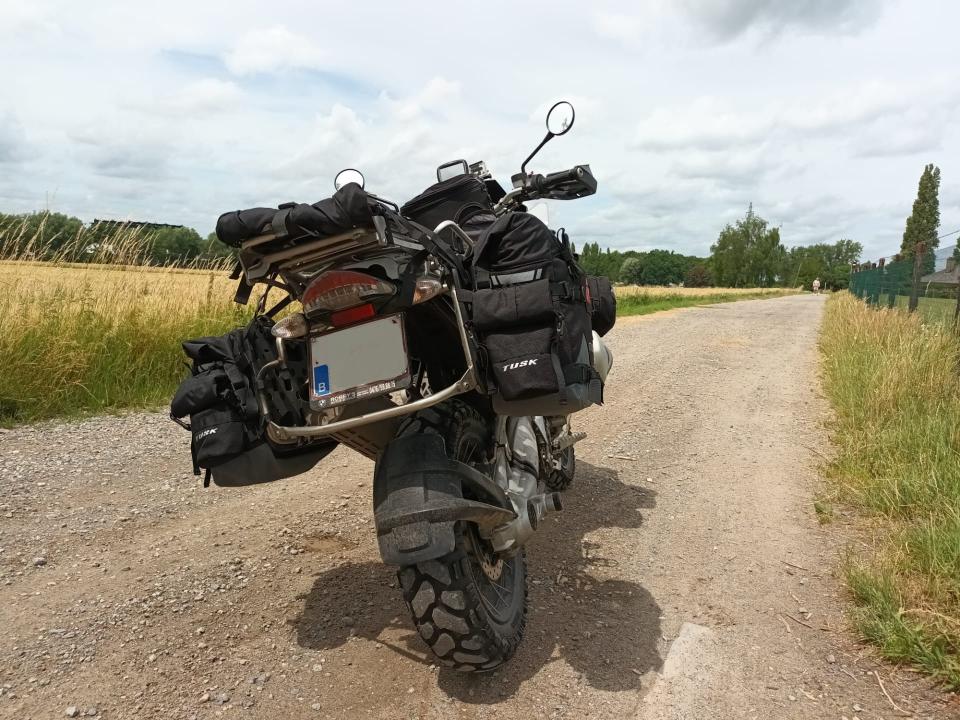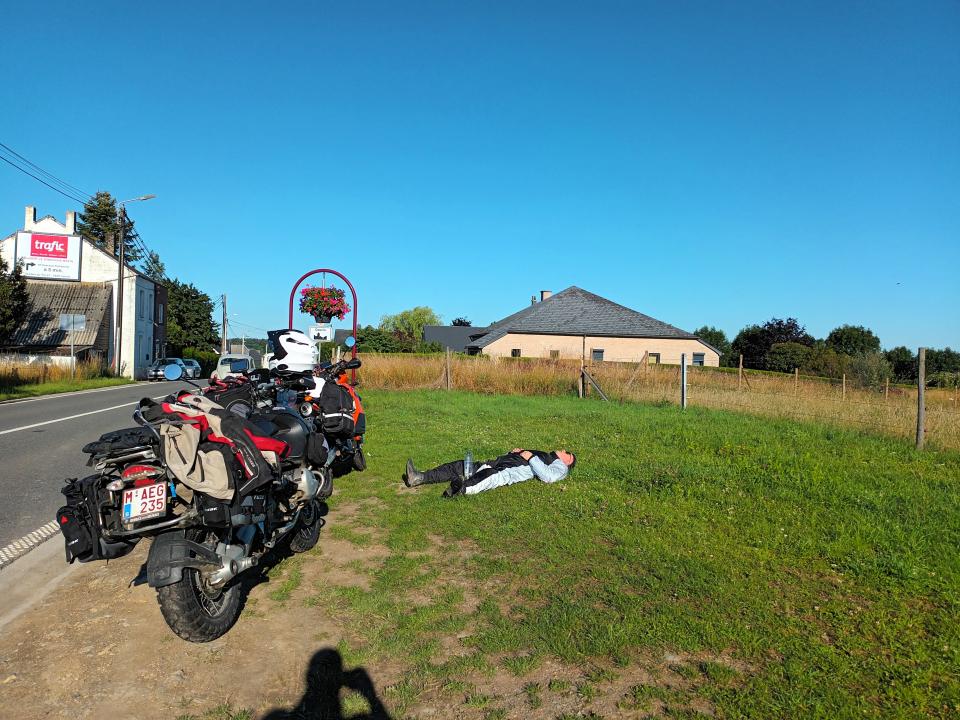 Day 1: Let's GO
04u00: Alarm goes off andddd we snooze it.
04u10: Alarm goes off andddd we jump out of bed. Today is not the day to be late. 
04u10:
- Breakfast
- Put Phone & Gopro in the bags
- Get dressed.
04u:50:
- Time to leave. Kids still asleep so we try to be quiet.
- We discover: Pushing a fully loaded GSa isn't that easy
- Kids still asleep: Mission Accomplished
05u00:
My companion (Muug) and I (Koen) arrive at our starting point in Aalst (Belgium).
Our departure isn't going as great as we hoped. Muug isn't feeling that well, low on energy not really able to ride on like that.
So we take a really long brake resting on the side of the road. 
After an hour or so, Muug is feeling ready to go. 
Our goal for today is Bardonecchia. It's really hot today, so we stop almost every hour.
We aren't really making good progress so we arrive only at 20u20 on the campsite.
The good news is that today we aren't sleeping in a tent but in a little wooden Pod with 2 decent beds.
Downside is that the hut is like a sauna, so we have to make a decision: Do we sleep in a sauna with doors shut or do we invite mosquito's with open doors?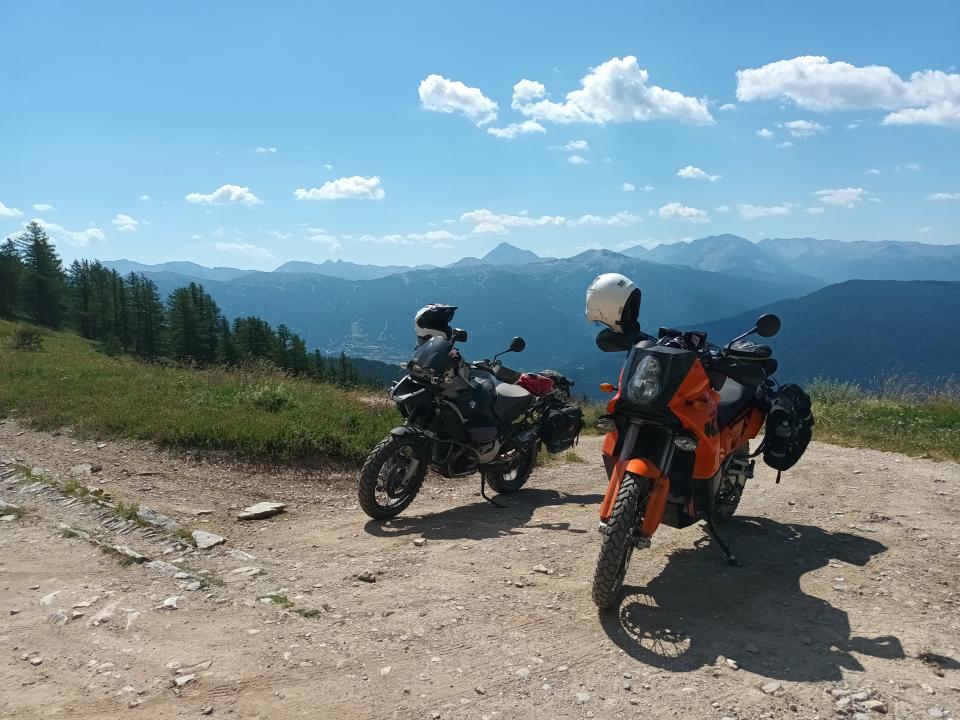 Day 2: Monte Jafferau & Sommeiller + some weightlifting.
After a good night, it's time to wake up and smell the roses?
Well after breakfast it's time to get dressed and start the bikes.
Today we want to ride the Jafferau & Sommeiller, Muug told me that the Sommeiller is a good warm up for the rest of the week. 
Riding towards Jafferau was a bit of a challenge, a few signs that are not really clear if the road is open/closed/whatever.
An Italian couple told us that it's good to go and we should not worry.
Well that was a bit of a lie, as 10km later we were talking to the Carabinieri (Italian Police) and were fined & told to return.
A bit of a false start. 
 
Bad things come to those who fall.
After our adventure with the Carabinieri we set our goal for the Sommeiller.
You have to pay 8€ to get access, but it's more than worth it.
I take the lead and try to keep a decent pace when going up.
After a few hairpins the GSa decides it's time to lose grip on the front and drop.
As it was in the middle of a hairpin the speed wasn't that high.
The damage was never the less a pain in the ass.
The cilinder protector was ripped lose and was only attached with 1 bolt.
We got the GSa up and continued our way up.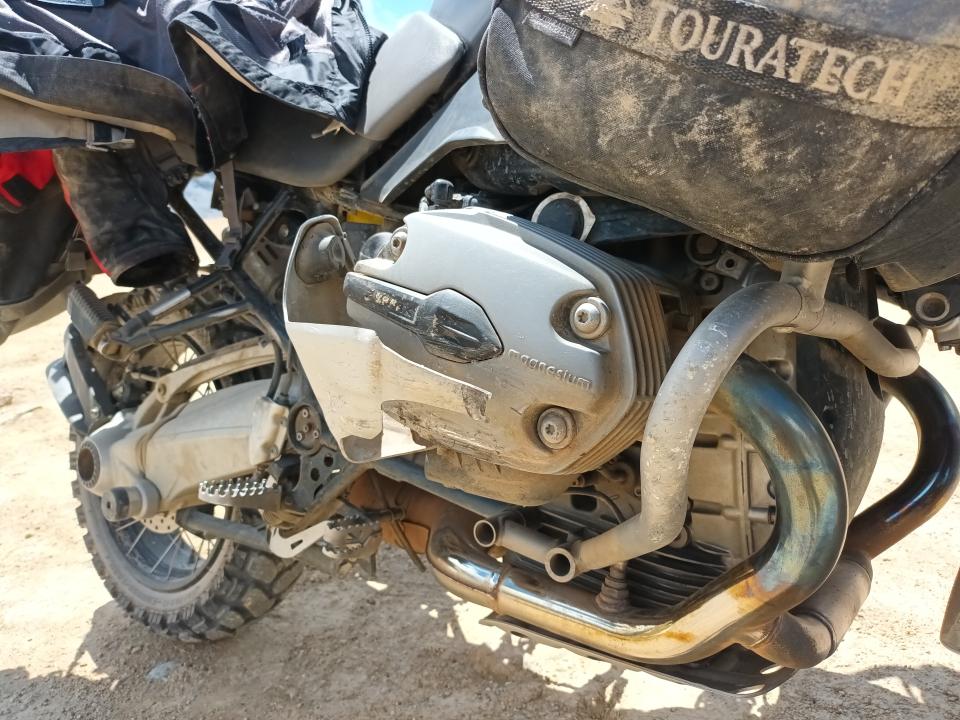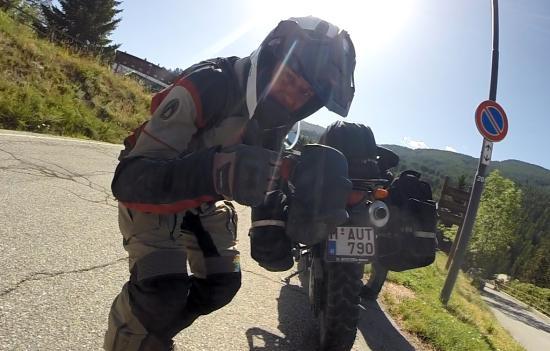 Day 3: GSa goes on a diet.
Today we go for Colle de basset & Assieta.
While riding towards the Colle De Basset I hit a road bump to hard and my rear wheel hugger breaks lose.
Threw the bit away (as I wasn't able to repear it) and continued our journey.
Col De Basset was thougher as we had in mind. Offroad and erosion channels made it clear: Pick the right trail or get stuck.
 
After Col De Basset we made our way to the Assietta.
This is where I discovered where the GSa was made for.
A rather easy going road in the mountains.
With my (limited) skill set this was a fun road to ride.
Not to many challenges, amazing views.
The route we took is about 60km, well at the end of those 60km we found rain.
A lot of it... So jump jump jump in our weatherproof suit...
So now it's hot, rainy & damp in our suit.
Afterwards we climbed the Col the Lazzara. It was a bit more challenging.
The weather wasn't that promising, thunder & lightning accompanied us along the way.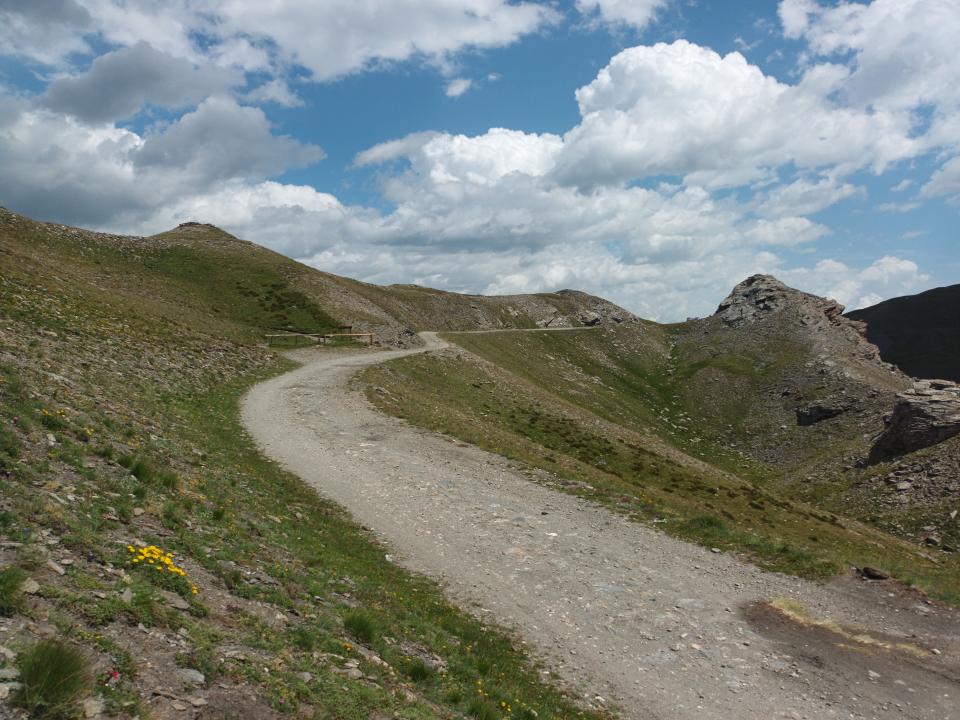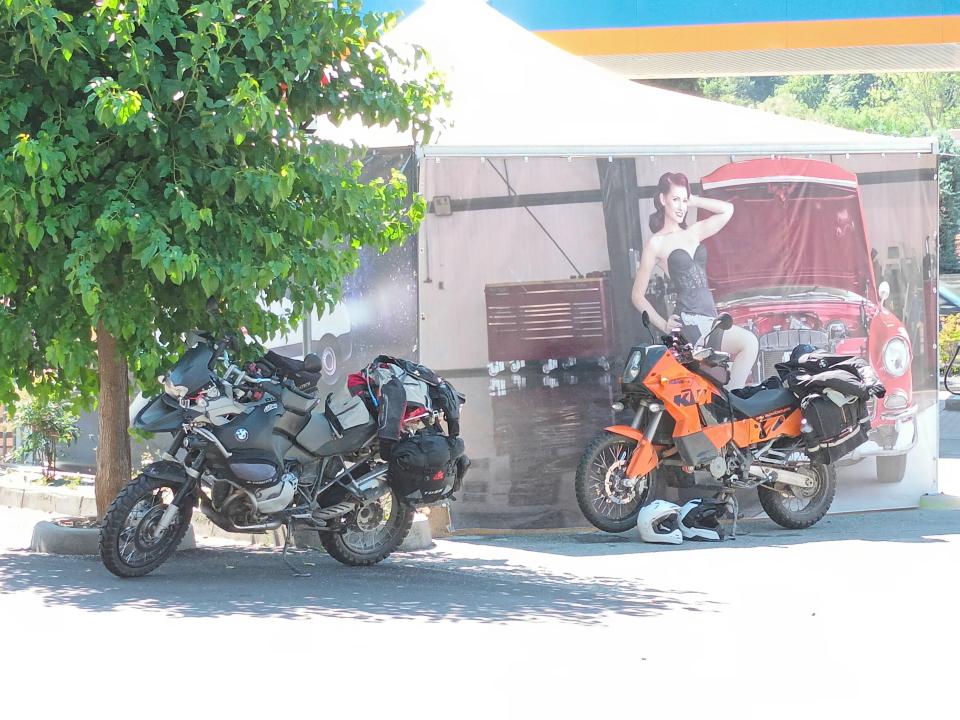 Day 4: Varaita, Flat Tyres and final goodbye to my cilinder protection.
Waking up in Caïro always does something special. Ok ok, it was the camp site that was called Caïro, we were still in Italy. 
After some breakfast we made our way to the Varaita.
After some hairpins Muug noticed that his front wheel wasn't doing what he was expecting.
A quick check at a gas station made it rather clear: flat tyre.
The Mitas E07+ has such a sturdy side that even completely flat it allowed the KTM to ride rather decent. 
We lost a bit of time getting it fixed, but made it to the Varaita shortly after lunch.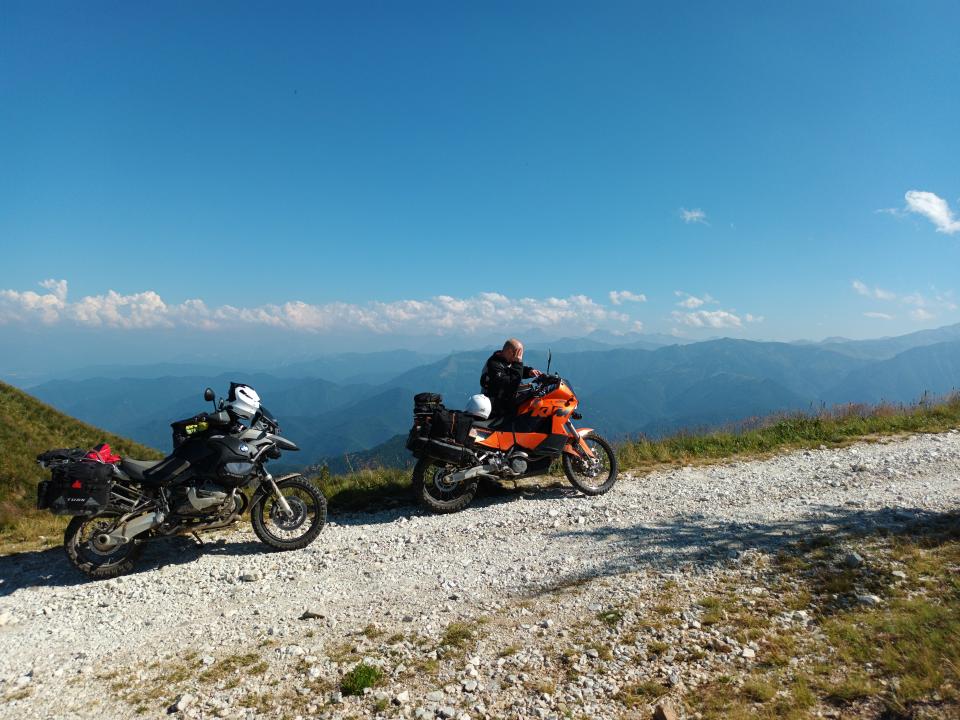 After a rather easy climb on the slope of the Varaita, the more difficult part started.
Rocks the size of tennis balls, gave me a lot of troubles.
Muug and his KTM dissapeared quickly, while I was struggling to find a decent tempo.
Soon after I dropped the GSa in a rather simple turn.
Picked it up, and kept going... But not for long, another drop and the GSa lost his protection that was damaged on the Sommeiller. 
Picked the bike up a second time, this time a little bit more effort was need.
And again kept on going, struggling to find a tempo that the GSa was comfortable with.
At the end of the day it was decided: No more offroad untill we get new protection on the GSa.
It's to big of a risk to keep on going without decent protection. 
Day 5: Mostly on the road... and visiting the castlee.
As the GSa has lost his protection, we will not risk any more offroad today.
The new piece was ordered via Mirco Motor (BIG THANKS) and should be available the next day.
So we spent our day rebooking our ticket for the LGKS / Via Del Sale and visited the castle.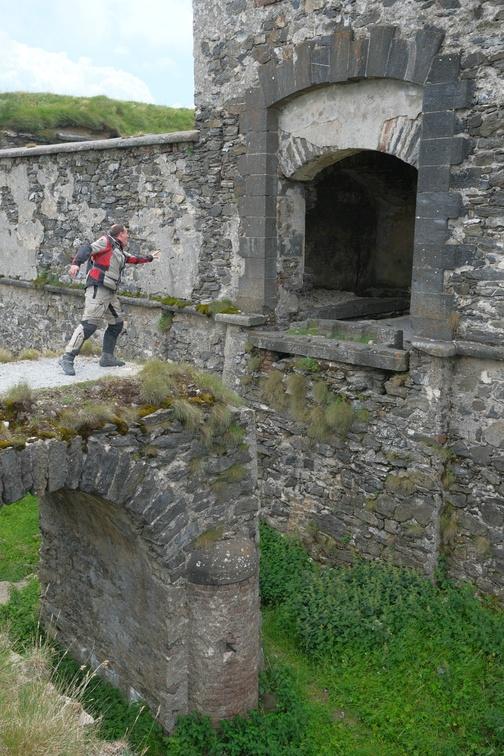 We had our lunch here at the castle, just perfect!
Hairpin, Hairpin, Hairpin, Hairpin... Nop lost count... 
Day 6: Installing the missing piece & the heat.
Mirco installed the missing piece, and we were ready to go. 
The downside was that we lost some time and that it got really hot.
A quick glance at the map and we decided on a new action plan.
Some smaller tracks to reach Delmonte and search for a camp site there.
I can't remember which tracks we did, what the state was but it was hot....
The good news? Our campsite had a swimming pool... The image attached is perhaps NSFW ;-)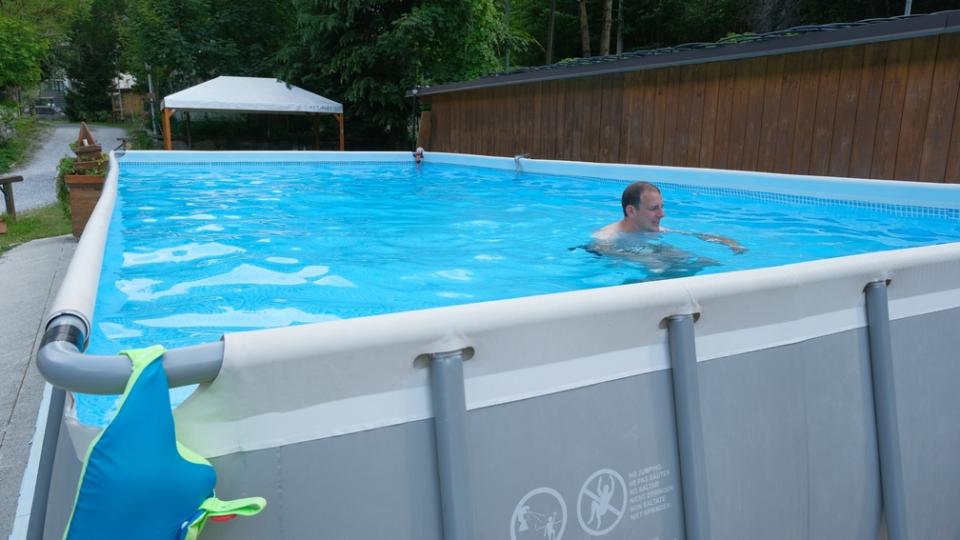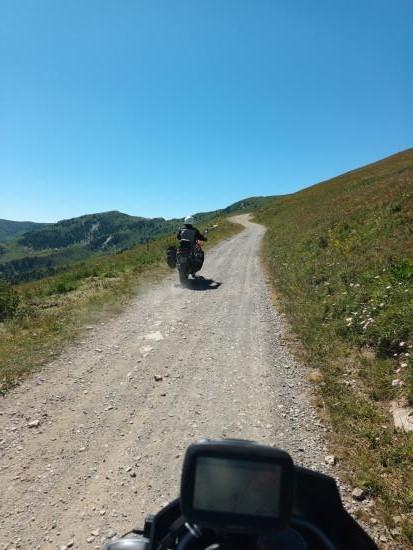 Day 7: LGKS!!!!
Today we finally were able to tackle the Via Del Sale (part of the LGKS) and it was just perfect!
We left our campsite without any breakfast, just pack our stuff and GO!!!!!!
Once we were on the right track we search for a nice spot to park our bikes and enjoy our breakfast.
The track was a nice mix of easy going parts and then some more challenging bits.
At some point it felt as if we were riding down stairs... Stairs that were filled with cobblestone and gravel.
Doing that with a fully loaded GSA does bring some sweat on the back...
The last day wasn't all that special: 1150km straight home.
I can conclude that on the motorway the GSa was more fit than the KTM 950.
For every other bit of the trip the KTM was clearly more in it's natural environment.
The GSa did great, and I'm pretty sure with a better rider it would conquer the world.
But with my limited experience this was at a few moments a very tricky ride.