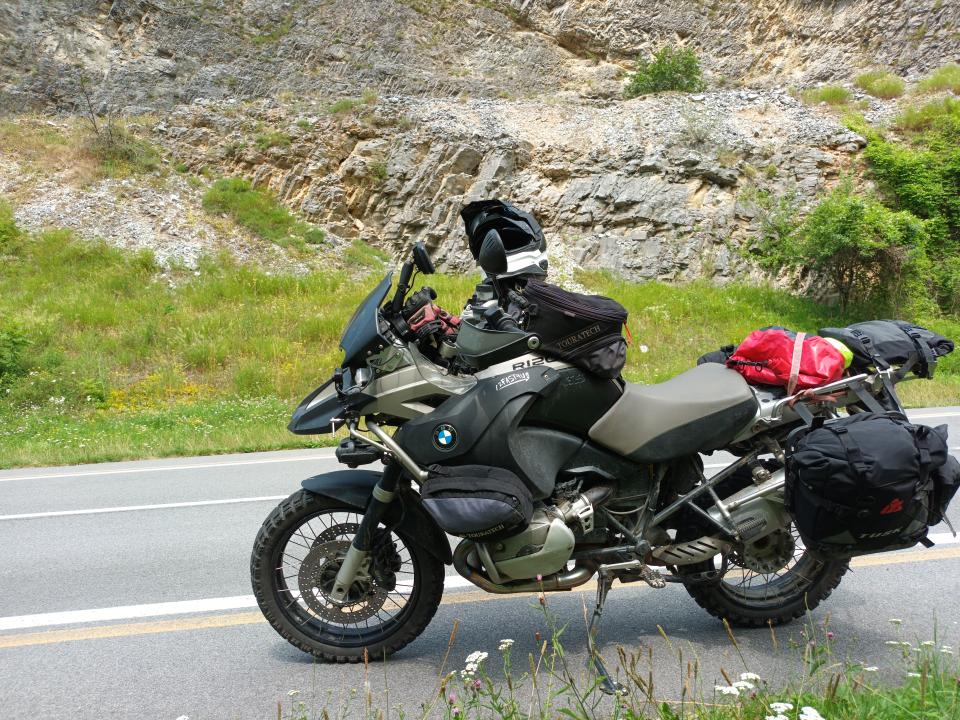 TUSK PILOT PANNIER BAGS WITH BOTTLE HOLDERS
 
I've bought these bags via Rocky Mountain ATV / MC for a very good price.
The bags have very good specs, but are not widely known in Europe it seems. 
Quality panier bags built for Touring and Adventure motorcycles with pannier racks.
Durable construction and materials that feature YKK hardware, 2520D Nylon body, TPU reinforcement panels, and nylon stitching.
Replaceable strap system.
Molle panel on each pannier to hold bottle holder.
Roll top design.
Reflective Tusk logos to increase visibility at night.
Removable waterproof inner bag liners included.
Comfortable rubber carry handles.
Easily attaches and detaches to just about any pannier rack.
Sold in pairs (one pannier bag for each side of the bike).
Length: 16", Width: 7", Height: 13" but can be taller.
35 Liter Capacity per bag.
And now for the magic trick
Sleeping mat, pillow, sleeping bag, tent.
Abra Ca Dabra
It all fits in 1 bag and I still have a little bit of space left. 
I have bought these bags for a trip to the French / Italian alps with my R 1200 GSa (2008).
The bags are attached to a Kriega Mounting plate (which fits the bags perfectly).

The bags feel really solid and can contain a lot.

The biggest downside I noticed is following:
The top part isn't waterproof, but the bottom part is.
So after a rainy day you carry a puddle of water in your bags.

The inner (yellow) waterproof liner is keeping your stuff dry, but it feels a bit strange to carry a puddle of water during your ride ;-)
Not sure if it's a bug or a feature ;-)

The bottle holders are a little small for me, I would love it if they would contain a 1.5L or 2l water bottle.

On durability, during my trip a tipped over a few times, the bags still look great. No cuts or other damaged noticeable.

I'm very happy with this purchase!
Pro
Looks / Feels really solid
Easy to attach to the rack
A lot of space to carry stuff
Survived a few (low speed) crashes on rocky surface without noticeable damage.
Cheap in comparison with other brands.
Con
Top isn't waterproof but the bottom part is. You get to carry a lot of water.
For me the bottle holders are a bit to small, I would prefer to be able to carry 1.5l bottles.